Top 3 Muay Thai Fighters of All Time
By Sean Fagan
Muay Thai is the national sport of Thailand and is beloved by fans around the world. This striking art form involves eight points of contact – two fists, two elbows, two knees, and two shins – making it one of the most dynamic and exciting martial arts disciplines to watch.
The sport of Muay Thai has produced some of the most incredible fighters of all time. Here, we rank the top 3 best Muay Thai fighters of all time.
Samart Payakaroon
Samart Payakaroon is widely regarded as the best Muay Thai fighter of all time. Born in 1962 in Bangkok, Thailand, Samart began training in Muay Thai at a young age and made his professional debut at just 14 years old. Over the course of his storied career, Samart won an incredible four Lumpinee Stadium championships across four different weight classes. He was known for his incredible speed, agility, and devastating kicks. In addition to his success in the ring, Samart also had a successful career in boxing, winning both the WBC and WBA titles. After retiring from fighting, Samart has become a successful coach and commentator.
Dieselnoi Chor Thanasukarn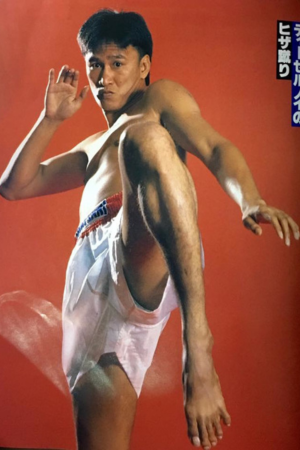 Dieselnoi Chor Thanasukarn is another Muay Thai legend who dominated the sport in the 1980s. Known for his incredibly long limbs, Dieselnoi stood at an impressive 6'2" and was able to launch punishing kicks and knees from a distance that his opponents couldn't match. Over the course of his career, Dieselnoi won the Lumpinee Stadium championship three times and the Thailand championship twice. He retired from fighting at the young age of 23, but his impact on the sport has been long-lasting. Today, he is considered one of the greatest Muay Thai fighters of all time.
Saenchai
Saenchai is one of the most exciting and dynamic fighters in the history of Muay Thai.
Born in 1980 in Surin, Thailand, Saenchai began fighting at a young age and quickly established himself as a dominant force in the sport. Known for his incredibly creative and unorthodox style, Saenchai is able to launch flying kicks, spinning backfists, and other incredible techniques that leave his opponents reeling. Over the course of his career, Saenchai has won multiple Lumpinee Stadium championships across several weight classes. Today, he continues to fight and inspire a new generation of Muay Thai fighters.
These 3 fighters have each left an indelible mark on the sport of Muay Thai and are remembered not just for their incredible accomplishments in the ring, but also for their impact on the sport and its fans. If you're a fan of Muay Thai or any martial art, these fighters are true legends and are worth studying and celebrating.
Feed Your Muay Thai Addiction!
Join our "Muay Thai Mondays" email newsletter for the latest updates on new videos, special events and everything Muay Thai!